How Do I Maintain A Stained and Sealed Concrete Floor?
This is one of my most frequently answered questions. Most decorative contractors are very experienced in the application methods for a stained and sealed concrete floor. This is one of the very processes on which the decorative concrete industry was born. Typically, it's the first thing you learn to do when in training.
One thing most contractors don't really know, is how to clean and maintain that beautiful finished floor so that it will last and perform for many years. Here at Concrete Perceptions, we have tested many cleaners and floor maintenance products over the years. One thing that we have found from our trials is that if a concrete floor is properly cleaned and maintained, you should never have to "re-seal" your concrete floor. We have created a very easy system for stained and sealed floor maintenance, and this process has stood the test of time.
Step 1: Dry Clean
Routinely vacuum with a good quality dry vac that has a horsehair brush attachment on the wand for hard surface floors. This is your first line of defense in keeping your floor clean. The vac will actually lift the dust and dirt off your floor. Do not use a vacuum with a beater bar/brush attachment, it can scratch the surface. Dust mops are okay for daily or quick cleaning, but they do not collect and dispose all of the dust and dirt on the floor like a good vacuum will.
Step 2: Mop With The Right Cleaner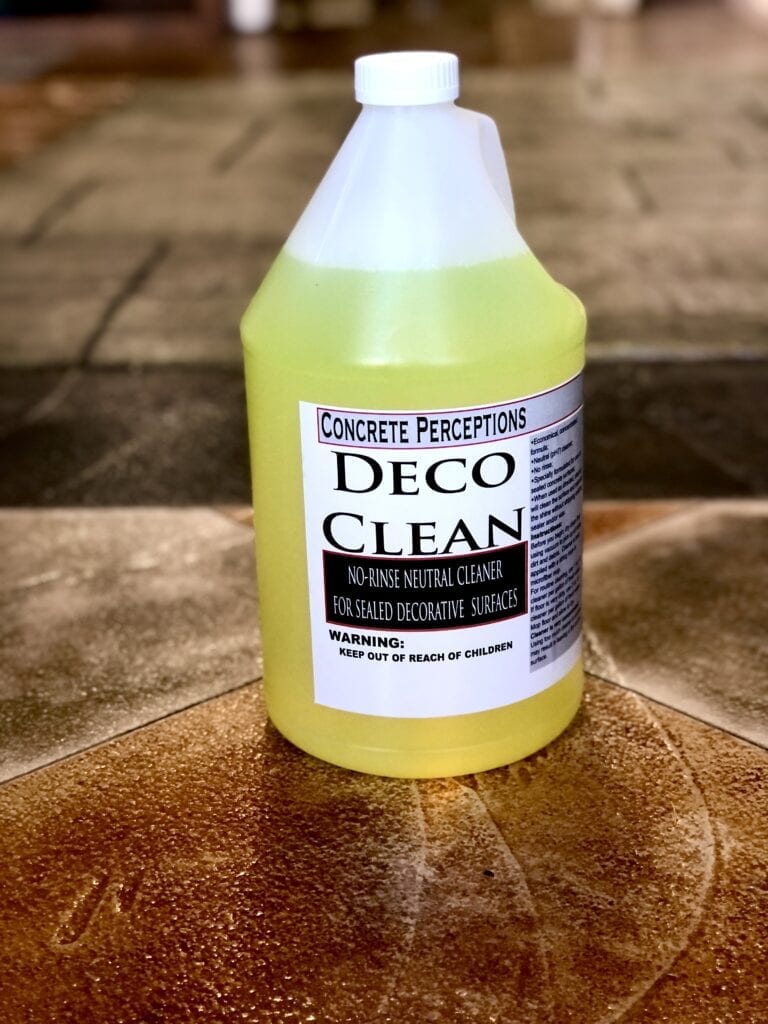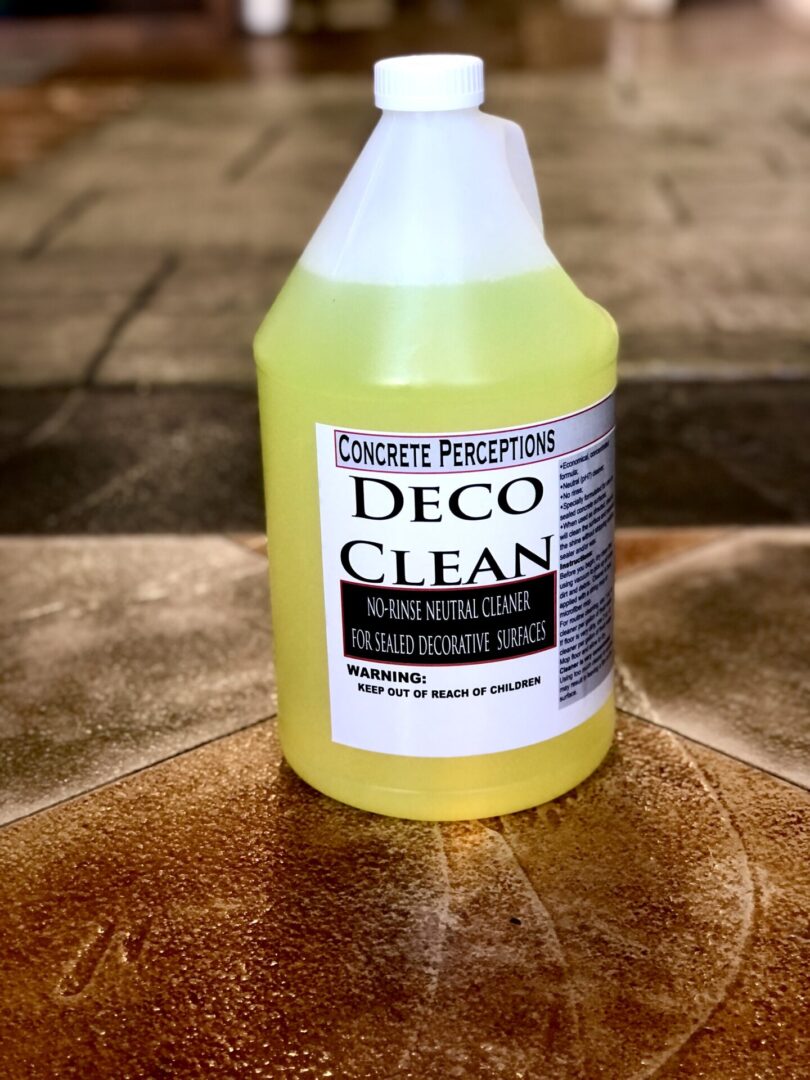 Using a cleaner with the right pH of 6.5-7.0 is of most importance when it comes to truly cleaning and maintaining your sealed concrete floor. Using a cleaner with the wrong pH, whether too acidic or too alkaline, can actually dull, and even strip the finish on a sealed floor. Harsh detergents and cleaners commonly used for other types of flooring (such as Pine-Sol, bleach, and vinegar) are not the right pH and should not be used on concrete floors with a sealed surface. We recommend our own pH neutral, no-rinse cleaner specifically created for sealed concrete floors, CPI DecoClean.
When using the right cleaner, it is also very important to pay close attention to the proper dilution rate of the cleaner. Most neutral cleaners (pH6.5-7.0), including our DecoClean, are highly concentrated and require only 1 ounce of cleaner per gallon of fresh water. In this case, more is definitely not better. Too much cleaner can leave a film or haze on the floor.
Why can't I just mop with plain water?
There are all kinds of substances in water, whether it's municipal water or well water. There are minerals, and additives that can cause a hazy film on your surface. The pH neutral cleaner will actually neutralize these substances, and leave your floor cleaner and shinier than plain old water. With our DecoClean, you just have to simply mop and let dry. Easy peasy!
Do not use steam mops on sealed concrete surfaces. The steam may cause moisture to get trapped underneath the sealer, and can cause white spots to appear on your floor. Also, do not use the "wet jet" type mops that have a liquid cleaner dispensing system. These type of mops do not get your floor wet enough to clean the dirt off the floor. Instead, the manufacturers' solution usually contains solvents that actually dissolve the dirt, and they will also strip your sealed concrete finish. It's best to use a plain old string mop that you can wring in a bucket. A good quality string mop will actually scrub the floor and lift the dirt better.
If your routine cleaning intervals are frequent, and you vacuum in between mopping intervals, your mop water shouldn't be very dirty.
Step 3: Protect Your Sealer
Create a "sacrificial wear layer" by applying a few coats of wax. This is the final component of our maintenance system. Most sealers are thin-film acrylic sealers, either solvent based or water based. If left alone, with no protection, the day to day foot traffic will wear away at that thin film.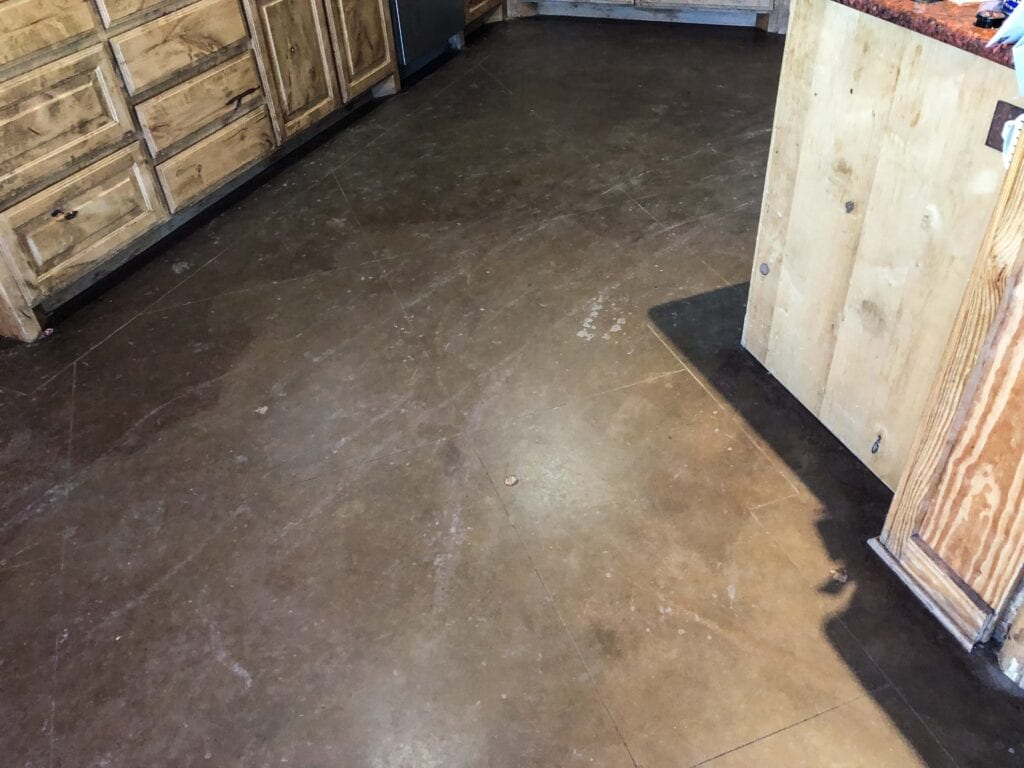 First the shine will dull, and then eventually, the sealer can be broken down and you will begin to see the color wearing in traffic areas. If it gets to this point, it's not an easy fix. However, this dilemma can be prevented by mopping on a few coats of wax before you move your furniture in. Do it right from the beginning. We recommend CPI Smooth Finish.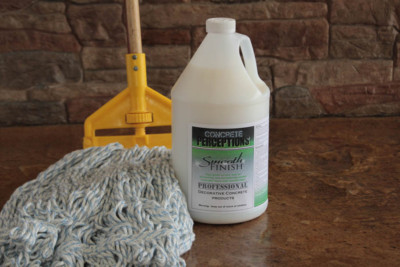 Think of it this way: The sealer protects the stain, and the wax protects the sealer. It's much easier to mop on a coat of wax in your high traffic areas every 2-3 years, than to have to move out your furniture to restain/reseal your worn areas. If you maintain that sacrificial wax layer, you should never have to reseal your concrete floor.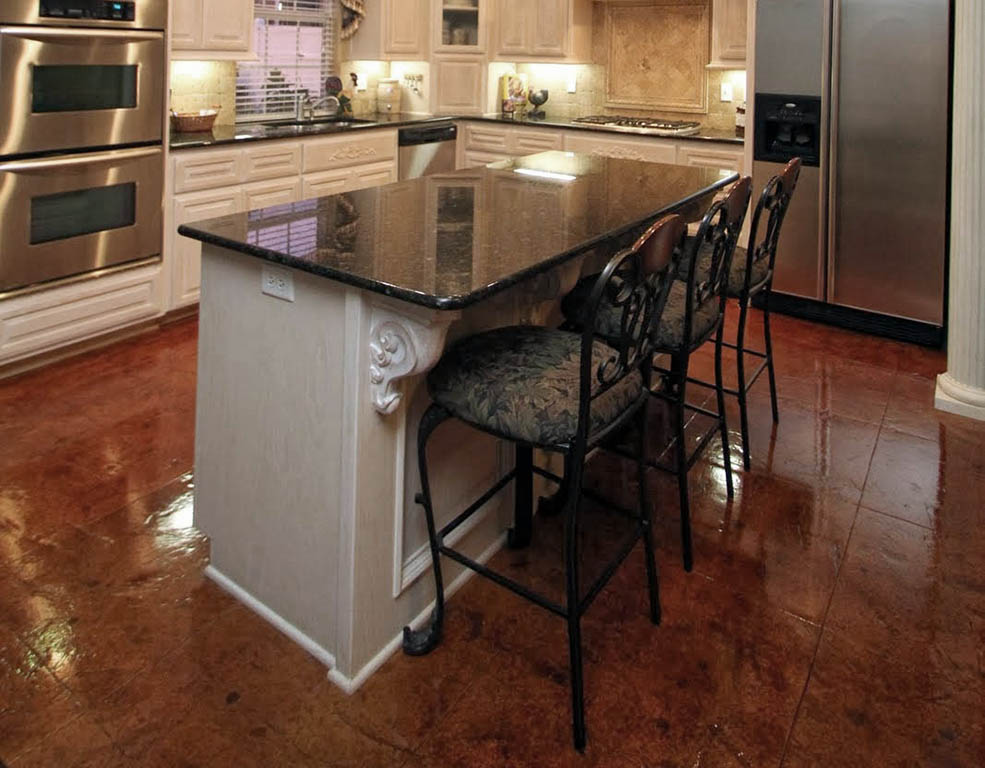 And that's it! If you have questions regarding decorative concrete floors or how to maintain them, give us a call today at (580)226-1687. Our knowledgable staff will be happy to answer your questions.